La nouvelle génération de substituts osseux
La nouvelle génération de substituts osseux
SUBSTITUTS OSSEUX PHOSPHO-CALCIQUES :
COMPOSITION NATURELLE, POROSITÉ ÉLEVÉE
BIOCERA-VET® BONE SURGERY RTU est un ciment osseux à base de phosphate de calcium prêt à l'emploi, injectable et autodurcissant. Il est composé de phosphate tricalcique (α-TCP) et de sels ortho-phosphates qui, après cristallisation, génèrent une apatite déficiente en calcium. Grâce à sa composition chimique proche de celle de l'os naturel, BIOCERA-VET s'intègre facilement aux composants minéraux de la matrice osseuse, est résorbé par les ostéoclastes et est progressivement remplacé par de l'os nouvellement formé.
BIOCERA-VET présente un ensemble de micro-, méso- et macropores le rendant hautement poreux, facilitant l'ostéoconduction, la colonisation cellulaire et la circulation des fluides biologiques qui garantissent la formation et le remodelage osseux.
De plus, dès injection, un contact direct avec l'os adjacent est créé, favorisant ainsi la résistance mécanique et la formation de nouvel os grâce à ses propriétés ostéoconductrices. Grâce à sa haute injectabilité et ses propriétés d'autodurcissement, BIOCERA-VET BONE SURGERY RTU vous apporte efficacité et gain de temps en chirurgie orthopédique.
COMMANDEZ NOS PRODUITS BONE SURGERY RTU
POURQUOI BIOCERA-VET BONE SURGERY RTU ?
READY TO USE & HAUTE INJECTABILITÉ
RÉDUCTION DU TEMPS D'INTERVENTION CHIRURGICAL
TEMPS DE PRISE RAPIDE ET RÉSISTANCE MÉCANIQUE
BONNE INTÉGRATION DU GREFFON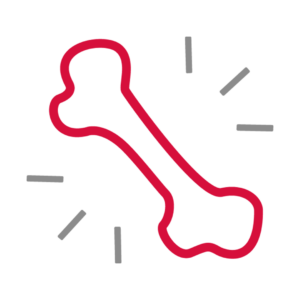 ACCÉLÉRATION DE LA CONSOLIDATION OSSEUSE
TAUX DE COMORBIDITÉ ET DE COMPLICATIONS RÉDUIT (PAR RAPPORT À L'AUTOGREFFE)
VOUS VOULEZ EN SAVOIR PLUS ?
Regardez le témoignage du Dr RAGETLY sur l'utilisation de BIOCERA-VET en chirurgie osseuse.
Dr RAGETLY, DVM, PhD, Dipl. ACVS, DIPL. ECVS, Surgery specialist – CHV Frégis, France
BIOCERA-VET : EFFICACITÉ ET SÉCURITÉ DÉMONTRÉES1
EFFICACITÉ COMPARABLE EN TERMES DE FUSION OSSEUSE2 ET RISQUE RÉDUIT DE COMPLICATIONS VS. AUTOGREFFES
(1) "Efficacy and safety assessment of a self-setting bone substitute (α-TCP) as efficient alternative to autograft. Ragetly et al. 2022 ». Étude élue Best Poster Presentation au VOS (Veterinary Orthopedic Society)
(2)La fusion osseuse a été évaluée en aveugle par le biais d'une analyse radiologique indépendante en utilisant une échelle d'évaluation numérique comprise entre 0 et 3 comme décrite par Michael et al., 2003 et Rees et al., 2016
*Incluant toutes les indications utilisant BIOCERA-VET
**Cas cliniques réalisés avec BIOCERA-VET BONE SURGERY 3cc
« BIOCERA-VET induit une fusion osseuse grâce à ses propriétés intéressantes combinant ostéoconduction et ostéo-intégration. Il est au moins aussi efficace que les autogreffes tout en réduisant les risques de complications et en économisant un temps chirurgical important. »
Dr G. RAGETLY, DMV, PhD, Dipl. ACVS, DIPL. ECVS
Chef du département de chirurgie au CHV Frégis (France).
VOUS VOULEZ EN SAVOIR PLUS ?
NE MANQUEZ PAS NOTRE CHAÎNE YOUTUBE !
« BIOCERA-VET BONE SURGERY RTU est facile à injecter dans le défaut osseux avec ou sans canule. Il n'est pas nécessaire de mélanger et préparer le produit. Cela permet d'avoir le produit à portée de main et de l'utiliser plusieurs fois pendant la même chirurgie. »
Dr Y. SAMOY, DMV, PhD, Dipl. ECVSMR
Université de Gand, Belgique
« BIOCERA-VET BONE SURGERY RTU est simple et pratique. La pâte est hautement injectable et remplit facilement l'espace à combler, prenant la forme du défaut osseux. Une fois injecté, il reste parfaitement en place, même lorsqu'il est irrigué. C'est un produit complémentaire à avoir à disposition pour les chirurgies nécessitant une greffe osseuse autologue. »
Dr. A. SPILLEBEEN, DMV, PhD, Dipl. ECVS
De Verwijskliniek, Bergen op Zoom, Pays-Bas
VOUS PRATIQUEZ LA CHIRURGIE ORTHOPÉDIQUE ?
CONTACTEZ-NOUS POUR OBTENIR PLUS D'INFORMATIONS SUR LES AVANTAGES ET INDICATIONS DE BIOCERA-VET
Complétez le formulaire de demande pour recevoir les derniers résultats cliniques et informations sur nos nouveaux produits.
"*" indicates required fields