Le substitut osseux synthétique biocompatible et économique
SUBSTITUT OSSEUX SYNTHÉTIQUE BIOCOMPATIBLE ET ÉCONOMIQUE
BIOCERA-VET® GRANULES est un substitut osseux synthétique composé de cristaux d'apatite déficiente en calcium (CDA) dont la composition est proche de celle de l'os naturel.
BIOCERA-VET GRANULES : 
COMMANDEZ NOS PRODUITS BIOCERA-VET GRANULES
VOUS VOULEZ EN SAVOIR PLUS ?
Regardez le témoignage du Dr RAGETLY sur l'utilisation de BIOCERA-VET en chirurgie osseuse.
Dr RAGETLY, DVM, PhD, Dipl. ACVS, DIPL. ECVS, Surgery specialist – CHV Frégis, France
BIOCERA-VET : EFFICACITÉ ET SÉCURITÉ PROUVÉES2
DANS L'ARTHRODÈSE, BIOCERA-VET MONTRE UNE FUSION3 OSSEUSE COMPARABLE ET MOINS DE COMPLICATIONS
(2) Efficacy and safety assessment of a self-setting bone substitute (α-TCP) as efficient alternative to autograft. Ragetly et al. 2022 Étude élue Best Poster Presentation au VOS (Veterinary Orthopedic Society)
(3) Bone Fusion was assessed by a blinded independent radiological analysis by a qualified orthopedic surgeon using a numerical rating scale rating from 0-3 as described by Michael et al., 2003 et Ree et al. 2016
VOUS PRATIQUEZ LA CHIRURGIE ORTHOPÉDIQUE ?
CONTACTEZ-NOUS POUR OBTENIR PLUS D'INFORMATIONS SUR LES AVANTAGES ET INDICATIONS DE BIOCERA-VET
Complétez le formulaire de demande pour recevoir les derniers résultats cliniques et informations sur nos nouveaux produits.
"*" indicates required fields
POURQUOI BIOCERA-VET BONE SURGERY Granules?
Préparation facile et intuitive, haute injectabilité
RÉDUCTION DU TEMPS D'INTERVENTION CHIRURGICAL
TEMPS DE PRISE RAPIDE ET RÉSISTANCE MÉCANIQUE
BONNE INTÉGRATION DU GREFFON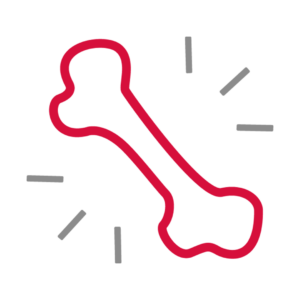 ACCÉLÉRATION DE LA CONSOLIDATION OSSEUSE
TAUX DE COMORBIDITÉ ET DE COMPLICATIONS RÉDUIT (PAR RAPPORT À L'AUTOGREFFE)
« BIOCERA-VET induit une fusion osseuse grâce à ses propriétés intéressantes combinant ostéoconduction et ostéo-intégration. Il est au moins aussi efficace que les autogreffes tout en réduisant les risques de complications et en économisant un temps chirurgical important. »
Dr Guillaume RAGETLY, DMV, PhD, Dipl. ACVS, DIPL. ECVS
Chef du département de chirurgie au CHV Frégis (France).