The naturally osteoconductive bone graft

The naturally osteoconductive bone graft
BIOCERA-VET® SMARTGRAFT is made of a bovine mineral bone matrix, bioresorbable polymers and collagen fragments.
BIOCERA-VET SMARTGRAFT is a tissue-engineering technology allowing the patient's cells to grow quickly and efficiently into the bone substitute while the biopolymers degrade, providing perfect integration and osteogenesis. The microstructure of the composite matrix is strongly similar to natural bone in terms of interconnected and mid-sized porosity promoting osteoconductivity. Its high wettability and hydrophilicity are ideal to support the bone formation process.
By supporting cell adhesion, colonization and proliferation,
BIOCERA-VET SMARTGRAFT presents fast osteointegration and a complete remodeling.
GET OUR BIOCERA-VET SMARTGRAFT PRODUCTS
WHY BIOCERA-VET SMARTGRAFT?
Quality and availability GUARANTEED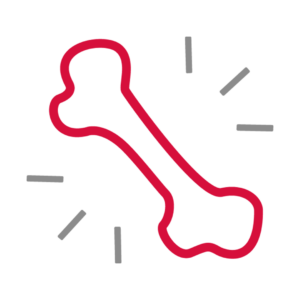 NATURALLY OSTEOCONDUCTIVE
FAST OSTEOINTEGRATION & COMPLETE REMODELING
Histological analysis of BIOCERA-VET SMARTGRAFT 4 months after implantation in maxillary human bone demonstrating*:
Volume of new bone and BIOCERA-VET SMARTGRAFT at 4, 6 and 9 months after implementation demonstrating*:
* Image adapted from D'Alessandro et al., 2017.
DO YOU PRACTICE ORTHOPEDIC SURGERIES?
Get in touch with us for more information about BIOCERA-VET's advantages and indications
Fill in the form to receive our latest clinical data and information about our new products
"*" indicates required fields
DO YOU WANT TO KNOW MORE?
Watch the testimonial of Dr RAGETLY about the use of BIOCERA-VET in bone surgery.
Dr RAGETLY, DVM, PhD, Dipl. ACVS, Dipl. ECVS, Surgery specialist – CHV Frégis, France
"BIOCERA-VET induces bone fusion thanks to its interesting properties of osteoconduction and osteointegration. It has real advantages for the veterinary surgeon allowing him to have an alternative to autograft, with less complications while saving significant surgical time."
Dr Guillaume RAGETLY, DVM, PhD, Dipl. ACVS, Dipl. ECVS
Head of Department of Surgery at CHV Frégis (France)