The next generation bone substitute
The next generation bone substitute
CALCIUM-PHOSPHATE BONE SUBSTITUTES:
NATURAL COMPOSITION, HIGH POROSITY
BIOCERA-VET® BONE SURGERY RTU, ready-to-use highly injectable self-hardening calcium-phosphate cement, is made from tricalcium phosphate (α-TCP) and ortho-phosphate salts that after crystallization give rise to calcium-deficient apatite crystals. This is chemically close to the mineral components in natural bone. Therefore, BIOCERA-VET becomes well integrated in the bone matrix, resorbed by osteoclasts, and progressively replaced by newly formed bone.
BIOCERA-VET has a full range of micro, meso and macropores that makes it highly porous. This supports osteoconduction, facilitates cell colonization and biological fluid penetration, which promote bone remodeling and formation.
In addition, once injected, BIOCERA-VET makes close contact with the adjacent bone, providing mechanical support and promoting new bone formation. Its highly injectable and fast self-setting properties give you the possibility to save time and improve the efficiency of your bone surgeries.
GET OUR BONE SURGERY RTU PRODUCTS
WHY BIOCERA-VET BONE SURGERY RTU?
READY-TO-USE, HIGH INJECTABILITY
Fast-setting and mechanical strength
Excellent osteointegration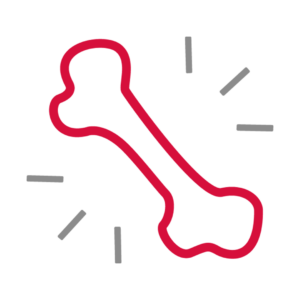 Accelerated bone consolidation
Reduced co-morbidities and complications (compared to autografts)
DO YOU WANT TO KNOW MORE?
Watch the testimonial of Dr RAGETLY about the use of BIOCERA-VET in bone surgery.
Dr RAGETLY, DVM, PhD, Dipl. ACVS, Dipl. ECVS, Surgery specialist – CHV Frégis, France
BIOCERA-VET: PROVEN EFFICACY AND SAFETY1
IN ARTHRODESIS, BIOCERA-VET SHOWS A COMPARABLE BONE FUSION2 AND LESS COMPLICATIONS THAN AUTOGRAFTS
(1) "Efficacy and safety assessment of a self-setting bone substitute (α-TCP) as efficient alternative to autograft. Ragetly et al. 2022." Best Poster Presentation at the VOS (Veterinary Orthopedic Society)
(2) Bone Fusion was assessed by a blinded independent radiological analysis by a qualified orthopedic surgeon using a numerical rating scale rating from 0-3 as described by Michael et al., 2003 and Ree et al. 2016
* Includes overall indications using BIOCERA-VET
** Clinical cases performed with BIOCERA-VET BONE SURGERY 3cc version
"BIOCERA-VET induces bone fusion thanks to its interesting properties of osteoconduction and osteointegration. It has real advantages for the veterinary surgeon allowing him/her to have an alternative to autograft, with less complications while saving significant surgical time."
Dr. G. RAGETLY, DVM, PhD, Dipl. ACVS, Dipl. ECVS
Head of Department of Surgery at CHV Frégis (France)
Do you want to know more?
Go and have a look at our YouTube channel!
"BIOCERA-VET BONE SURGERY RTU is easy to inject into the bone defect with or even without a cannula. The haste of mixing the product and placing it, is now out of the picture. This allows to have the product at hand and using it multiple times."
Dr Y. SAMOY, DVM, PhD, Dipl. ECVSMR
University of Ghent, Belgium
"BIOCERA-VET BONE SURGERY RTU has a simple and convenient presentation. The paste is highly injectable and easily fills the gap, taking the shape of the bone defect. Once in place it holds its position even when it is irrigated. It is a complementary product to have in store for surgeries."
Dr. A. SPILLEBEEN, DVM, PhD, Dipl. ECVS
De Verwijskliniek, Bergen op Zoom, Netherlands
DO YOU PRACTICE ORTHOPEDIC SURGERIES?
Get in touch with us for more information about BIOCERA-VET's advantages and indications
Fill in the form to receive our latest clinical data and information about our new products
"*" indicates required fields